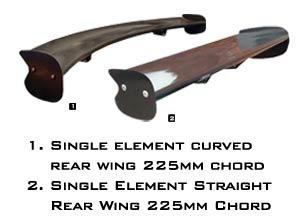 Single Element Rear Wings
Reverie produces a wide range of universal fitment single element rear wings from high down force to low drag as curved or straight wings, most of our rear wings can be boot, roof or clam mounted. Our wings are autoclaved for the best finish and longevity. Lacquering is available to further increase the lifespan of the rear wing.
Full CFD data available also some actual wind tunnel data on cars. The data is available on the technical data area of the website. Some examples of fitted rear wings are available on the gallery section of the website.
If you have any questions or comments about our single element rear wings don't hesitate to contact us.