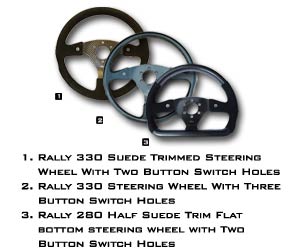 Reverie produces a wide range of universal steering wheels with the most common fixing stud patterns such as Momo, Sparco, Omp, Nadi, Personal, Raid and 3 stud. We are also able to drill our steering wheels to a custom pattern if requested.

We have supplied steering wheels to Citroen rally team, with Sebastien Lobe, winners of WRC every year between 2003 and 2010. We make steering wheels in various sizes from 255mm to 350mm diameter.

All of our steering wheels are autoclaved to achieve the highest quality, are hollow to minimise weight. They can also be lacquered to improve their protection against UV and trimmed in suede to ensure the best comfort and longevity.
Some examples of fitted steering wheels can be seen in the gallery. If you have any questions regarding our steering wheels please don't hesitate to contact us.
To view technical information for our range of steering wheels please click here