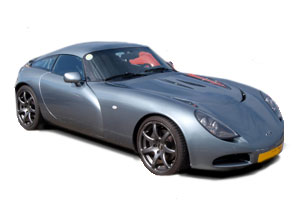 Reverie manufactures a range of lightweight Carbon Fibre products and accessories for the TVR T350, Tuscan Mk2 and Tamora including motorsport rear wings, rear diffusers, front splitters canards and seats
All our TVR products and accessories are manufactured from the finest quality Carbon Fibre and are Autoclave cured for superior strength and finish.
For the T350 (2002 - 2006) we manufacture bespoke rear diffusers, wings and bumper canard fins. For the Tuscan Mk2 (1999 -2006) we offer a kit that allows a Reverie Mulsanne Carbon Fibre bucket seat, a seat designed to be very lightweight (at just under 3.0kg) yet very strong, to fit neatly into the existing Tuscan seat mountings.
For the Tamora, we offer a bespoke Carbon Fibre front splitter.
Explore Reverie's range of TVR products and accessories below: