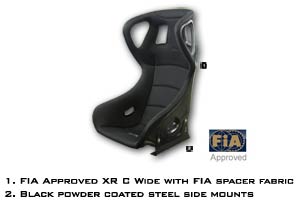 Our universal autoclaved ultra stiff twin skin or, cheaper single skin seats are available in a variety of styles and trim options, and are compatible with most cars and allow for use with 3/4/5/6-point harness belts. A selection of sub frames are available including sliding rails and carbon fibre or fixed alloy side mounts which are the standard sparco/omp/recaro spacings 285mm allowing for easy fitment and customisation.
Our narrow seats (Mulsanne B, C, X C & XR C) are universal fit using side mounts, but can also be fitted to various Lotus models (see lotus Section). A variety of cushion kits and seat trims are available such as FIA spacer fabric, vinyl or genuine leather. Cushion kits are compatible with any seat whereas full seat trim is available on selected models
If you have any questions regarding our seats do not hesitate to contact us.