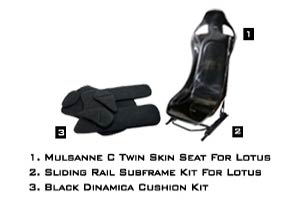 Our Mulsanne (B, C, XC and XRC) may require conversion kits for fitment in Lotus Sub-frames. The conversion kit required is dependent on seat and sub-frame choice. Note; the Mulsanne B seat requires conversion kits for all types of Lotus and VX220 sub-frames.
The Mulsanne C, XC and XR C (Narrow) seats are compatible with both Lotus and VX220 sub-frames, but may also require a conversion kit. For information on what sub-frame/conversion kit is required please see details on the Mulsanne C, XC, XRC Specific Lotus Sub-frame Kits web page;
Mulsanne C, XC, XRC Narrow Conversion kits
Our twin skin seats have approx 20% improved rigidity and further reduced weight over our single skin seats.