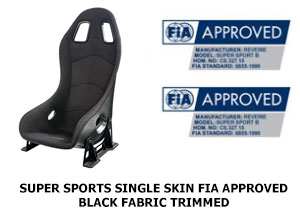 FIA Approved Racing Bucket Seats
All of our FIA approved racing bucket seats are twin skin with head supports and are available trimmed in brushed nylon, FIA approved spacer fabric, genuine leather or untrimmed. All our FIA bucket seats are rated for up to 20G impacts and are available as both side mounted and as flat base for use with a sliding rail.
Our FIA approved seats are handmade and the construction of the shell provides the seat with a higher level of safety than non-approved seats - essential when you are looking to compete on the track. As such, the seats do not have any reclining or tilting features as they are designed for the strength and rigidity required for track use. Visit the FIA website for more information on FIA Homologations.