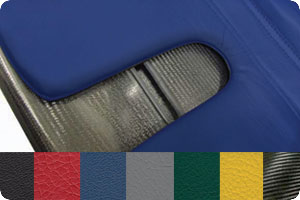 Our leather seat cushion kits are available in black, red, blue, grey, green, yellow and special carbon effect for fitment to Reverie GT B and GT C (wide) and Mulsanne B, C, X C, XR C and CM (narrow) bucket seats.
Our cushion kits are designed to provide increased comfort and are also simple to fit thanks to a Velcro backing. If leather isn't to your taste, we also offer brushed Nylon, foam, Dinamica and vinyl cushion kits as well as FIA spacer fabric available in a variety of colours with different stitchings.
Configure Your Leather Seat Cushion Kit:
Below, select seat fitment (either wide or narrow) and then select desired colour.