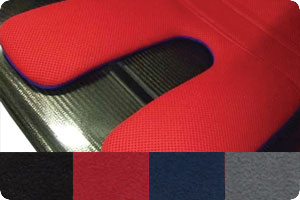 Our FIA spacer fabric seat cushion kits are available in black, red, blue and grey for fitment to Reverie GT B and GT C (wide) and Mulsanne B, C, X C, XR C and CM (narrow) Carbon Fibre bucket seats.
Our seat cushion kits are simple to fit with a velcro backing. A range of different colour stitching options are also available. We also offer seat cushion kits in brushed Nylon, foam, Dinamica, leather and vinyl which are available in a variety of colours. For extra support and comfort, we offer brushed Nylon support cushions which again are easy to fit with their Velcro backing.
Configure Your FIA Spacer Fabric Cushion Kit:

Below, select seat fitment (either wide or narrow) and then select desired colour and then select desired colour of stitching.