Our Zolder back plates are for use with our Zolder air boxes. Back plates that fit the Zolder 65X also fit Fontana plenums. We manufacture a variety of different back plates including flat back plates or back plates that are raised by 30, 60 or 90mm - increasing the volume for the air box. For the Zolder 150D, 112D, 112X and 122 Macau, two special Carbon Fibre back plates are available, one with twin straight outlets and one with twin 45deg angled outlets.
Flat back plates are available in Alloy in addition to Carbon Fibre and GRP whilst raised back plates are availble in Carbon Fibre or GRP only.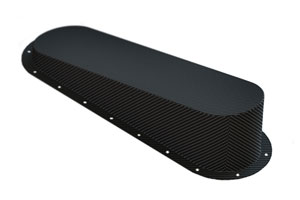 View our complete range of angled Zolder back plates covering ITG JC50, Pipercross PX600 and Reverie fitment. Angled back plates are useful for increasing air box volume in restriced engine bays. Angled back plates are available in three different sizes.
Select a Back Plate for Your Zolder Air Box:
Using the configurator below, first select Zolder air box model, then material (Alloy, Carbon Fibre or GRP) then select depth/configuration (i.e. flat, 30mm, Twin Intake e.t.c.). Note Alloy is only available for flat back plates.