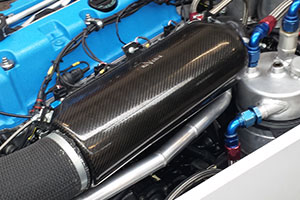 The Reverie Zolder 112D is a high performance air box available in either Carbon Fibre or GRP. Designed to fit either the Pipercross PX600 back plate or ITG Megaflow JC50 back plate, the Zolder 112D offers an internal volume of 5.725L and can be specified with a 100mm diameter inlet. Blank air boxes are available if you wish to install your own custom air inlet.
Available in left-hand or right-hand versions to suit requirements. A bespoke ITG air filter is also available for the Zolder 112D suitable for engines with up to 290bhp.
L490mm x W140mm x H112mm
Configure Your Zolder 112D Air Box:
Using the configurator below, first select material (Carbon Fibre or GRP) then select whether you require left-hand or right-hand fitment, then inlet option (either no inlet/blank or 100mm inlet bonded on) then finally select back plate compatibility (note: back plate is NOT included).