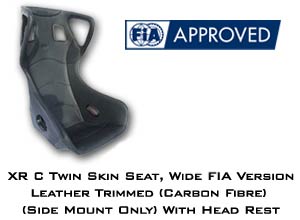 Universal FIA Approved Seats
All of our FIA approved seats are twin skin with head supports and available trimmed in brushed nylon, FIA approved spacer fabric or genuine leather. Our FIA seats are rated for up to 20G impacts and are available as both side mounted and as flat base for use with a sliding rail.
Some examples of fitted seats are available in the seats section of the gallery.
A size guide for our seats is available here!
If you have any questions regarding our FIA approved seats or any of our products, do not hesitate to contact us.