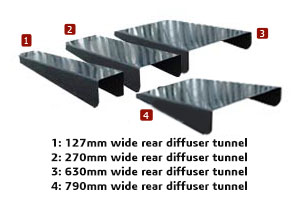 Universal Carbon Fibre Rear Diffusers
Reverie produce carbon fibre rear diffusers designed to allow fitment to any vehicle. Our range of diffuser elements can be bonded to fourm a larger diffuser. Like all of our products our rear diffusers are autoclaved to achieve the best finish possible. Rear diffusers can be lacquered to increase protection from UV and increase the parts life span.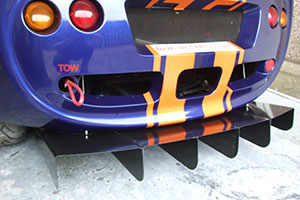 Universal fitment rear Carbon Fibre wide diffuser tunnels that can be modified in width with a cut and joint if needed or bonded to other tunnels to fit your desired application.
Can be purchased with other diffuser tunnels to construct bespoke rear diffusers (we can join diffuser tunnels on request, £49 + VAT will be charged per side joint).
We can also add on extra rear diffuser vanes as needed £49 per vane to rivet and bond in place.
Please provide plan view and side view sketch of your requirements within our stated parameters:
When ordering, please specify diffuser length in mm (max 800mm) and also diffuser vane start (max 90mm) and end vane depth (max 180mm) in mm.
If you require foil backed heatshield fitted to the upper surface, due to close proximity to an exhaust pipe or silencer, please sketch a diagram showing where to apply the heatshield.