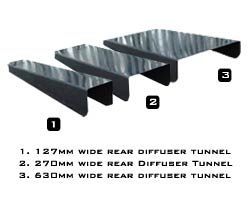 Universal Carbon Fibre Rear Diffusers
Reverie produce carbon fibre rear diffusers designed to allow fitment to any vehicle. Our range of diffuser elements can be bonded to fourm a larger diffuser. Like all of our products our rear diffusers are autoclaved to achieve the best finish possible. Rear diffusers can be lacquered to increase protection from UV and increase the parts life span.
Reverie may produce a diffuser specifically for your vehicle, please click here to find out if we do
Measurements of our range of carbon diffusers can be found here

Examples of fitted rear diffusers can be seen in our product gallery
If you have any questions regarding our rear diffusers or any of our products please feel free to contact us.