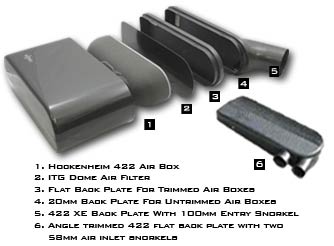 Why fit an air box? To combat induction noise on a highly modified engine with throttle bodies (typically reduced by 6.5dbA) a growing problem at circuit venues, to offer reduced intake temperatures and add the possibility of ram air intakes for increased power.

Technical data about air boxes available here!
An Air Box size guide can be found here
For help in selecting the right Air Box for your car view our Air Box Selection guide

Reverie produce a range of universal throttle body air boxes and accessories in different styles which offer great versatility allowing fitment to almost any vehicle and engine combination (see gallery for examples). Our air boxes can be used with internal filters or remote filter kits.

All of our Hockenheim and Interlagos air boxes can be trimmed in depth or angle to ensure a perfect fit. They allow the consumer the option of placing the air inlet snorkel or snorkels where required for best packaging or flow distribution. Feel free to contact us if you have any questions about any of our air boxes.