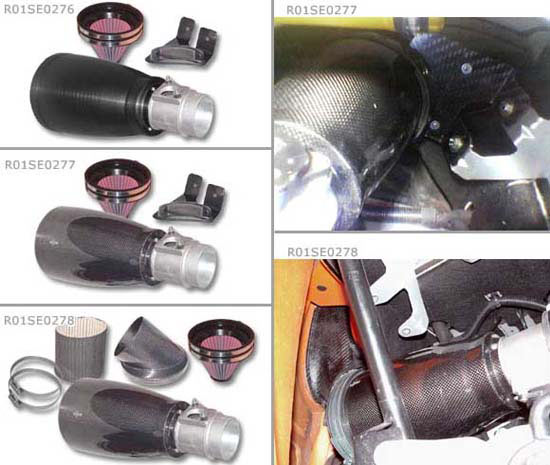 Product Description
Fully tailored, ready to fit system for the Lotus Elise S2 111R, Exige S2 111R, 240R and 2-Eleven with the Toyota 2ZZ-GE engine. The kit is based on the popular Reverie Daytona 230 induction kit range.
Designed to allow maximum throughput of cold clean induced air, when rolling road tested on a 111R a 7bhp gain was recorded with a total peak gain of 10.9bhp.
3 part number options are avalaible:£7~~~~~~~~ f4 R01SE0276 The 230 has an alloy body
£7~~~~~~~~ f4 R01SE0277 The 230C has a carbon body
£7~~~~~~~~ f4 R01SE0278 The 230CX has carbon body and 100mm carbon 45 entry cap to work as a ducted system to work with the inner side scoop for cold ram air cf2f5fs21~R01SE0294~sold separately

Kit Components : Cotton Gauze air filter, Alloy filter canister (new short version), VVTi cast adaptor, Carbon bracket & fixings.


Part Code
R01SE0276
Weight
0.00kg
Made to Order
SLT
10 days
UOM
Each
Price