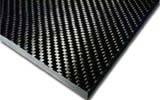 Carbon fibre sheet / Carbon fiber sheet and panels
Our carbon fibre sheets and panels are suitable for a multitude of applications, in areas ranging from automotive to marine, etc. You can choose from 1 ply to 5 plies sheet, and thickness varying from 0.3mm to 1.46mm. The sheets are also available with Airex foam, Nomex honeycomb, and aluminium honeycomb cores, ( from 4mm to 10mm thickness) the enumerated significantly increasing the stiffness of the carbon fibre sheets.
This is not low quality only pre-preg carbon fibre sheet (which in certain conditions, or in time will disintegrate and fall apart), we manufacture one of the highest quality pre-preg and AUTOCLAVED CARBON FIBRE SHEET AND PANELS in the world.
Select below from multiple variety of carbon fibre sheets: