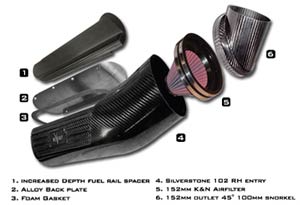 The beauty of this set up is filter is fitted in the end of the air box. 152mm Filter adapters are available to reduce the air inlet size to 127.5,100,85,75,70 or 58mm or specialised c/fibre adapters with multiple smaller entry diameters used to further reduce induction noise, or route enough air through a difficult chassis. Furthermore the back plate can be alloy or carbon with the option of a 20mm deep fuel rail spacer back plate.
Silverstone air boxes are available in Left Hand or Right Hand options with 102mm or 78mm depth and a range of reducers are available.
If you need advice on which air box is best for your needs view our selection guide
Technical data about air boxes available here!
An Air Box size guide for the Silverstone can be found here
Compatible Filters: Remote Filters, Cone Filters
Some examples of fitted Silverstone air boxes can be seen in our gallery. Please contact us if you have any questions or would like advice on how to get the best results from your Silverstone air box.