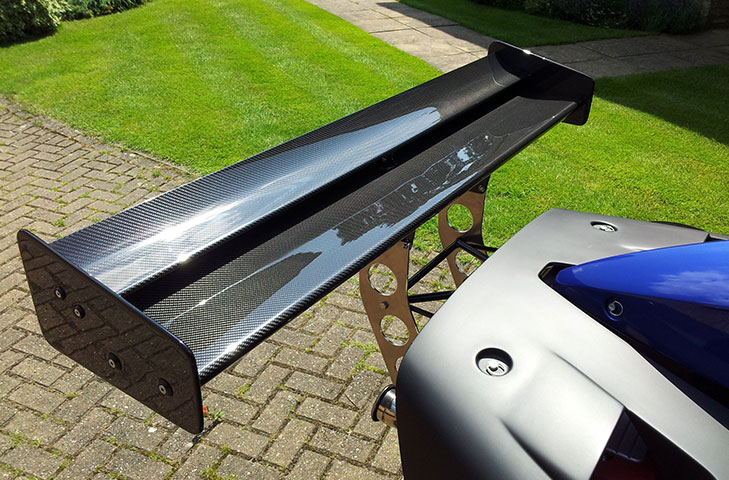 Product Description

Wing Span: 1360mm
Material: 2x2 twill pre-preg Carbon Fibre
Finish: Polished Carbon
Components: Wing, 2x End Plates & Support Tabs (Not supplied wing support legs) Dual Element 225mm x 110mm straight wing, 1360mm wide including endplates. Carbon drop tab mounts 304mm outside to outside of carbon drop tabs to fit inside Atom 3 factory alloy supports.

Mounting notes:
The whole mounting kit required to the chassis is standard Ariel factory.
Tom Siebert at the factory can quote.
You will need to purchase the different rear no plate bracket, the 2 flat uprights, ~a horizontal brace, 2 modified rear silencer shock absorbing mounts (longer threads to allow for mounting the horizontal brace). All the bolts, nuts and washers
If you have a high level rear brake light, this has to be relocated to the horizontal brace above as the front of the brace bolts to where the light is mounted. There is a different backplate for this light which the factory stock. This is the most difficult part of the installation as the cable is threaded throuhh the centre of the chassis tubes and isn't always long enough when remounted further back on the new wing horizontal brace.
Also .. the backplate is fixed to the rear of the light unit by very strong glue .. the factory normally bin it and use a new one and rewire it through the chassis tube as it's quicker!



Part Code
R01SB0401
Made to Order
SLT
10 days
UOM
Each
Price